Welcome to the July 2022 edition of State of Search.
In this post, we'll look at the latest results from significant SEO case studies published in July.
Next, we'll dive into the aftermath of the May 2022 Google Core Update. I'll also throw in my personal take on how the Core Update has affected the websites that I oversee.
Finally, we'll go through the latest newsworthy updates on Google Search Console.
Let's get started.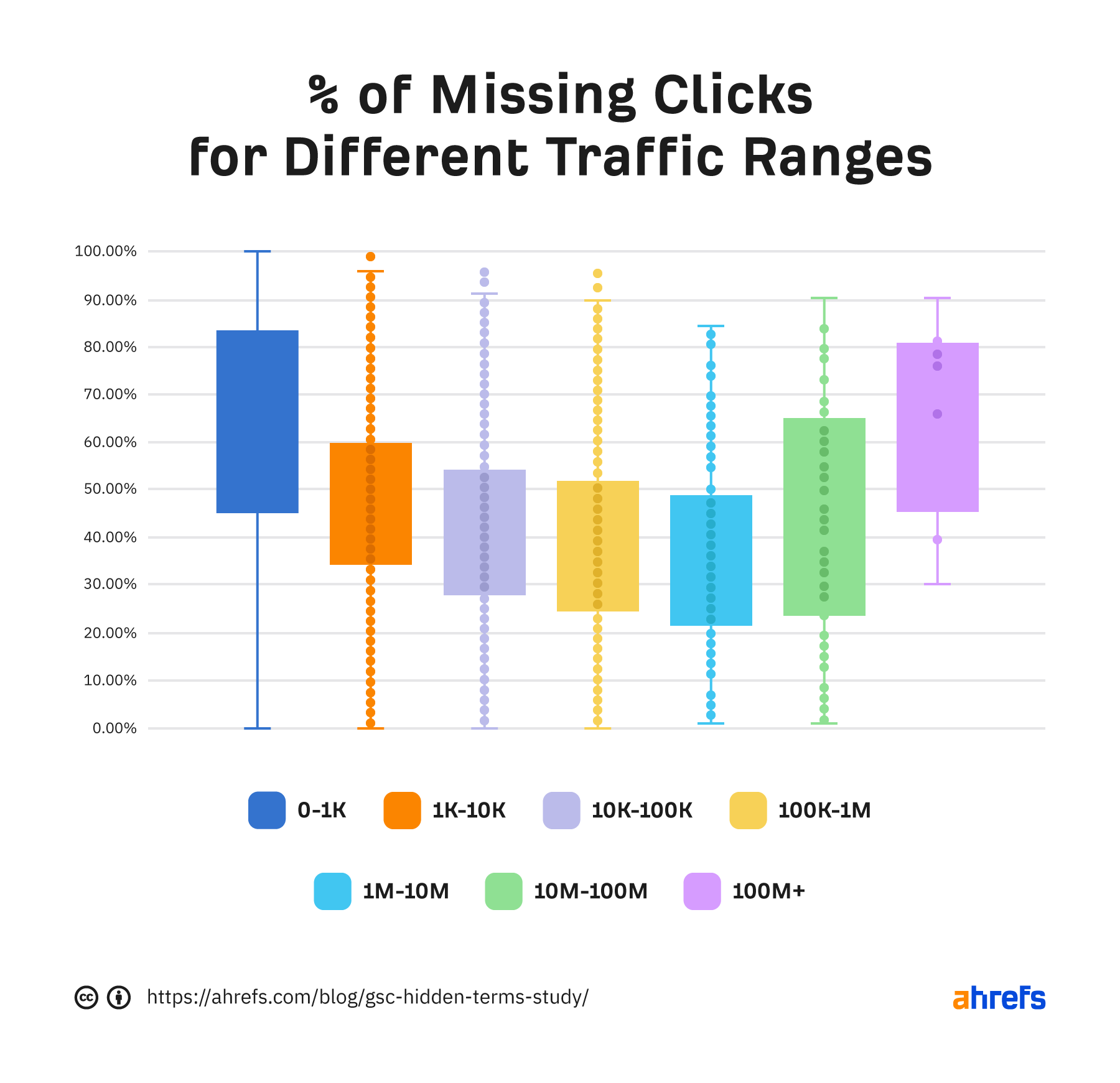 Almost Half of Google Search Console Clicks Are Not Shown
https://ahrefs.com/blog/gsc-hidden-terms-study/
Many SEOs tout Google Search Console (GSC) as the single source of truth when it comes to keyword rankings.
However, this bomb-shell study conducted by Aherfs shows that GSC does not report almost half of the clicks websites receive from search.
The study has analysed almost 9 billion clicks across 146,741 websites of all different forms.
Key takeaway: Google Search Console is a great first port of call to get a pulse read on how your website is performing in search. It will offer the most up-to-date keyword indexation data compared to third-party tools.
However, do not make it your first and only port of call. Use a second tool such as SEMRush to cross-check your keyword indexation against Google Search Console to ensure you are not missing keywords that you are ranking for.
Link Relevance vs. Content Relevance – Which One Wins for Link Building?
https://moz.com/blog/link-relevance-vs-content-relevance
The golden ratio between link and content relevance is a topic of great debate within the SEO link-building community.
In short, link relevance is how relevant the domain, page and anchor text is from the website that is linking to you. Content relevance is how relevant your webpage content is to the source of the links.
Key takeaway: Content relevance matters more than link relevance. However, getting a backlink from a site with higher authority probably overrides this.
I am currently running a test on content backlink relevance. From what I have seen so far, the statement above holds true. I will be posting up my test results soon so please do subscribe if you are interested.
Site Traffic Down? You May Have Been Mugged by the Google May 2022 Core Update
https://www.seroundtable.com/google-may-2022-core-update-big-tremors-33577.html
In case you missed it, there was a major Google core update that was implemented between May 25th and June 9th. Many website owners have reported their organic search traffic was impacted by this update.
Some websites have seen their traffic halved whereas others have gained traffic.
What we know so far is the May 2022 core update was mostly focused on content. Specifically, rewarding sites that demonstrate good expertise, authority and trust (E.A.T) through their content while possibly downranking those that do not.
Key takeaway: All of the websites that I am managing have been impacted in some way by this core update. Thankfully, only one site has lost traffic. This site had a large amount of duplicate content which I had warned the site owner against. I am running tests right now to see if this is the main reason why the site lost traffic after the core update or not. I'll report my findings here once I have enough data.
On the other hand, another website that I am overseeing saw almost a 3x increase in organic traffic after the update. This site owner invested heavily in building their E.A.T via an SEO content plan that I have been overseeing since the start of 2022. Although the website had been incrementally increasing in organic traffic month-on-month, it shot through the roof after the core update.
I will be publishing a case study on what we have been doing with this website soon so be sure to subscribe so you don't miss it.
Why does Google Search Console Core Web Vitals & PageSpeed Insights Report Different Data?
https://www.searchenginejournal.com/search-console-cwv-report-and-pagespeed-insights-scores/458970/
Google's Search Advocate, John Mueller, recently answered a question on why website speed data between Google Seach Console and PageSpeed Insights is different.
In short, PageSpeed Insights measures your website's performance against 'lab data' whereas Google Seach Console uses 'field data'.
Lab data means data gathered from simulation. Field data is data gathered from the reality of how your website is performing with its actual users.
Key takeaway: Google Search Console's core web vitals report is a more reliable source of how your website actually performs compared to Google PageSpeed Insights. This is because the data is based on how your website performs from real people that have visited your website.
However, that's not to discredit PageSpeed Insights. For example, if you have a brand new website that hasn't had any visits, GSC will not be able to generate any performance data. In that case, you can use PageSpeed Insights to simulate users coming to your website and generate a useful performance report. Both tools are fine when used in the correct scenario.
Google Search Console Insights Now Integrated with Google Analytics 4
https://support.google.com/analytics/answer/10737381?hl=en
Have you made the switch to Google Analytics 4 (GA4)? Now, you can integrate your GA4 account with Google Search Console to give you more useful performance data.
The update has been mainly focused on giving content creators more useful information on how their content is performing from the Search Console Insights view.
Key takeaway: Search Console Insights is still in beta so I've found it to be of limited use so far. However, the new integration with GA4 makes it a bit more useful.
If you find Google Analytics and Google Search Console overwhelming, Search Console Insights now offers a clean and simple way to understand how your website content is performing in search.
You Can Now Track Your Website Video Indexing via Google Search Console
https://developers.google.com/search/blog/2022/07/video-indexing-report
Here's a nice addition for those who are heavy into video content creation. Google Search Console now allows you to track how many of your website's videos are indexed in search.
What that means is Google Search Console will crawl your sitemap URLs for any instances of video.
If the crawler detects a video, but cannot index it, Google Search Console will report this to you.
Key takeaway: YouTube is the second largest search engine in the world, after Google. Not only does it have massive numbers of in-organic searches, but it can also help you gain more traffic from directly Google Search.
Google has added more and more videos to the search results over the years. It's no surprise that Google tends to prefer YouTube videos in search as it is owned by Google after all. So, if you are making videos for your business, get them uploaded to YouTube and embedded onto relevant pages on your website. The new GSC report will let you know if there's any issues with picking up your videos in search.
So there you have it – that's The State of Search for July 2022. How did your website perform last month? Were you impacted by the May Core Update? Let me know by leaving a comment below.